The Best Non-Surgical Solution for Bulging and Herniated Disc
We have been helping people avoid disc surgery for over 15 years. We use the DRX9000 Spinal Decompression System which is proven to un-bulge and un-herniate discs without surgery.
What it's LIKE to experience DRX Treatment?!?
Get Dr. Hannan's FREE Back Pain Guide NOW! click this link
ladrx9000.com Dr. Hannan is a Decompression Specialist utilizing the DRX-9000 True Lumbar Spinal Decompression. The DRX-9000 is FDA cleared-decompression therapy for herniated & bulging discs with a well-documented clinical success rate of 86%.The DRX is helping thousands of patients avoid back surgery all over the world. Visit our website at www.ladrx9000.com to recieve your FREE REPORT on how you can become PAIN-FREE without surgery.
FDA Cleared True Spinal Decompression for Herniated & Bulging Lumbar Discs
Click HERE for FREE DRX Brochure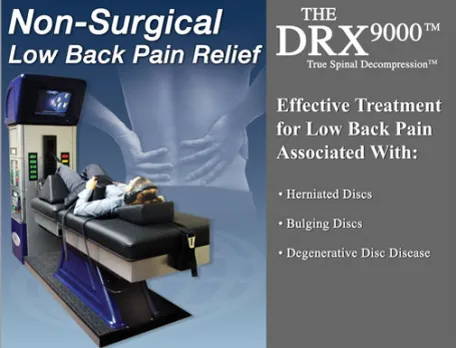 DRX9000TM - For more information check out our designated website @­ www.ladrx9000.com
ADVERTISEMENT- Our Patients LOVE us!
"I am a 54yo registered pharmacist with a post graduate doctoral degree in pharmacy who works as an oncology specialist with a multi-national pharmaceutical company.I have been talking to traditional physicians about traditional medicines and therapies on a daily basis for over 30 years.Yet, when I was diagnosed with a herniated disc in my lower back and researched my alternatives, I choose Dr. Hannan and the DRX program at the ChiropracticHealthCenter.It was clearly the correct choice for me.I wanted a course of treatment that would be painless, effective, allow me to continue working, and eventually allow me to return to my hobby as a low-handicap golfer.The DRX program and the CHC met all those lofty goals.Dr. Hannan worked with me until all the pain and stiffness were totally gone and I was totally satisfied with the outcome of my treatment.The entire staff at the CHC is incredibly friendly yet highly professional and caring.Today I am pain free and I have resumed my very active lifestyle including golf.I would recommend this program to anyone genuinely committed to getting well without surgery or drugs."Rick S., PharmD
"I don't believe there are enough words to express how I feel about the DRX Treatment Program! When one experiences as much pain as I have in the past compared to completing the program I wonder why it took me so long to seek treatment. My pain level is non-existent! The staff at CHC is courteous and very professional - this clinic is second to none! No more pain and no more sleepless nights! I highly recommend this procedure for all those who suffer with back pain and don't want surgery, don't hesitate- do it now! Oscar E., 70yom, Retired*
"I have never in my 52 years gone to a doctor that shows so much concern about a person in pain. They are the most caring & helpful people. I have all the faith in them, and yes, I am 100% better! I couldn't sleep a full 7 hours at night, now I can sleep all night! I'm so glad that my son Nicholas talked me into doing this DRX-9000 Program! I tell everybody I know about the CHC and their great staff!" Jean T., 53yof, Homemaker*
"I would definitely recommend the DRX treatment program because of the success that I had and the fact that I avoided having surgery. I no longer have leg and back pain and I don't have any more numbness. The atmosphere is relaxing and the staff is very friendly. Everything I needed improvement on was done and I can't think of anything that would have made the treatment program any better!"
Donald G., 45yom, Operations Mgr.*
Throughout the development and manufacturing process Axiom has continued to make exhaustive efforts to ensure the quality of their hardware and software. Scientific proven techniques were at the core of the creation of the DRX9000. By combining technology and science, today's physician can offer patients an effective alternative to surgery.
With a majority of the population experiencing back pain at least once in their lifetime, lower back pain is the most common ailment facing healthcare providers today. In the past physicians were faced with limited resources for successful treatment. With the age of technology and the low success rate of surgery, patients have become more educated to alternative treatment for back pain relief. This changing trend is evident by the billions of dollars spent each year on alternative healthcare. We offer our patients a highly successful, non-surgical alternative treatment!
With a vast range of treatment protocols, physicians can now offer more patients lower back pain relief. The DRX9000 is designed to relieve pressure on the anatomical structures that cause lower back pain. This non-surgical procedure was developed for the treatment of pain and disabling lower back conditions caused by disc herniations, degenerative disc disease, sciatica, and posterior facet syndrome. With a clinical 86% success rate we're helping people avoid back surgery and get back to enjoying a pain-free life once again!
As Seen On :
---
FDA 510(k): K060735
Indications for use
The DRX9000 True Non-Surgical Spinal Decompression System provides a primary treatment modality for the management of pain and disability for patients suffering with incapacitating low back pain and sciatica. It is designed to apply spinal decompressive forces to compressive and degenerative injuries of the spine. It has been found to provide relief of pain and symptoms associated with herniated discs, bulging or protruding intervertebral discs, degenerative disc disease, posterior facet syndrome and sciatica.
---
For more info. @ DRX-9000 visit http://www.axiomworldwide.com